If you often or occasionally use "Buy Now, Pay Later" services to purchase merchandise, and if you have an iPhone or Apple device, you may be excited to know that Apple Pay Later has arrived (sort of). Apple just started rolling out its new payment installment plan program this week to random users invited by email, but in the coming months — no actual date has been set — Apple Pay Later will be available to all consumers with Apple Wallet.
You may not be able to use Apple Pay Later yet, but even when you can use it, there's the question: "Should you use Apple Pay Later? Or any Buy Now, Pay Later service?" You have questions, and we have some answers.
What is Apple Pay Later?
In a nutshell, Apple Pay Later is part of the Buy Now, Pay Later universe, also known as BNPL. As is standard with the other BNPL programs out there, Apple Pay Later allows you to split up payments for a purchase into four equal installments. If you decide to choose Apple Pay Later to pay for your merchandise, and assuming Apple decides you're a good credit risk, you will make your first payment the moment you make the purchase, and then every two weeks for the next six weeks, you catch up on the remaining payments. In other words, you make the first payment, and you're given a loan on the rest.
In case you're curious, some of the other BNPL programs out there (many of which have names that sound like a cult, or maybe a garage band) include:
Does Apple Pay Later charge interest?
Not being charged interest is the whole point and appeal of a Buy Now, Pay Later program, so generally, they don't charge interest. Occasionally, you may find some outlier, such as a BNPL plan that goes longer than the standard six weeks and charges interest. You will sometimes wind up being charged fees if, for instance, you don't wind up making a payment or you reschedule a payment, which you could sort of see as a form of interest.
Some credit cards have been offering Buy Now, Pay Later features, incidentally, and those typically have monthly fees, which you also might see as a form of interest. Still, the appeal of a Buy Now, Pay Later program is that you can usually skate through six weeks without paying any interest or fees.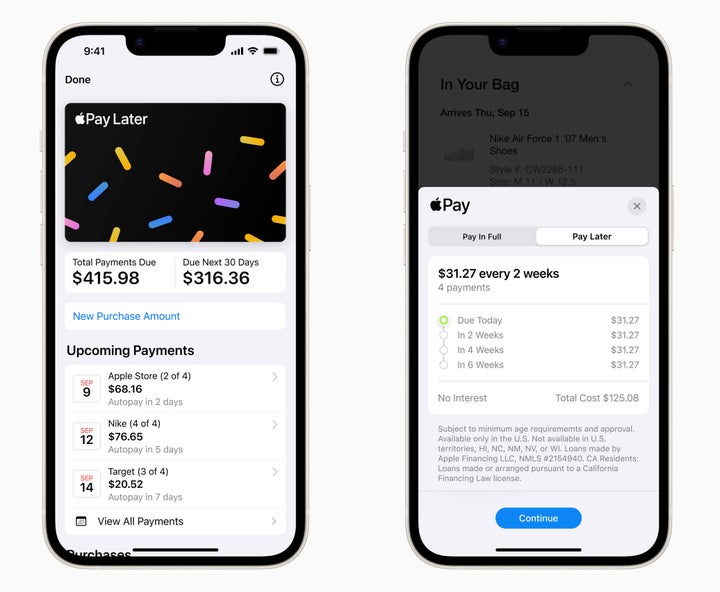 How is Apple Pay Later different from any other "Buy Now, Pay Later" program?
Mostly, the big difference is that Apple Pay Later will eventually come with everybody's Apple Wallet.
Some of the Apple lexicon can get confusing, but Apple Pay is Apple's mobile payment service that lets you make payments through your phone. Apple Wallet, meanwhile, is the app that comes with your iPhone; it's a digital wallet that holds the credit or debit cards that you use with Apple Pay. In your Apple Wallet, you can also put digital rewards cards and concert tickets, just like you'd have in a conventional, non-digital wallet.
You can use Apple Pay Later if you are shopping online or making an in-app purchase on your iPhone or iPad with merchants that accept Apple Pay.
So if you use Apple Wallet to pay for purchases for a lot of things and you do want to use a Buy Now, Pay Later plan, Apple Pay Later may simply be more convenient than a different BNPL service.
And, of course, if you're an Apple enthusiast and you really like your Apple Wallet, you'll probably enjoy the gee-whiz factor that comes with Apple Pay Later. For instance, it has a calendar showing you when the BNPL payment or payments are due, how much is due, and how much is left to pay on the purchase.
You know, it's Apple. So the interface looks cool. It'll almost make you forget that you've just put yourself into debt.
Yeah, about that. So how do I pay back Apple? With my debit card? Or my credit card?
Unlike many of its BNPL competitors, Apple is not allowing consumers to make their Apple Pay Later payments with a credit card. The company evidently sees that as a form of paying off debt by going into more debt, which is never a great idea.
Of course, there's probably a way to finagle things with BNPL programs in general so that you are simply stretching out the interest-free loan even further if you did make your payments with a credit card. You take out a BNPL loan, then, two weeks later, you pay it with a credit card, and within the month, theoretically, you pay off the BNPL payment on your credit card and dodge interest.
But since things often don't work out that way, Apple is probably doing you a big favor by not allowing you to pay off your APL purchases with a credit card.
What happens if you miss a payment with Apple Pay Later?
Well, you've linked your Apple Wallet to your debit card. You're going to make a payment. If you don't have the money in your checking account, you may go into overdraft and be charged a fee by the bank, and you can try taking that up with the tellers or manager. If you take things to the extreme and buy something with Apple Pay Later and then shut down your bank and skip town, Apple probably has some pretty good lawyers.
Could using Apple Pay Later negatively affect my credit?
It shouldn't, and it could help it — down the road. Apple Pay Later has plans to eventually report consumers' payments to credit bureaus. When you apply for an Apple Pay Later loan, there will be a soft credit pull (Apple will take a look at your credit history) to make sure you are credit-worthy, but that will not affect your credit score.
So, I'm thinking of buying a car with Apple Pay Later. Four payments over six weeks will be steep, but, hey, no interest…
Not so fast. Apple Pay Later is offering its loans in a range of $50 to $1,000. But if you can actually buy a car online for $1,000, more power to you. And unless inflation really gets out of hand, you won't be able to purchase something as small as a pair of tube socks and string along the payments for six weeks.
So is Apple Pay Later part of Apple's attempt to take over the world?
"There are close to 600 million Apple Pay users that use it and love it," said John Talbott, director of the Center on Education and Research in Retail at Indiana University's Kelley School of Business. "It is also very popular with younger people, who have adopted it faster than other age groups. Given this and the trust people have in the process, I think the multi-pay option will be well accepted. I'm sure other multi-pay platforms have concerns about the entry of this dominant player into the payment domain."
Kimberlee Josephson, an associate professor of business administration at Lebanon Valley College in Annville, Pennsylvania, believes that "Apple Pay Later isn't competing with prominent BNPL players, but rather with the banking sector."
But she thinks that on the whole, Apple Pay Later is probably a net positive for the consumer, especially freelancers and small business owners.
"The biggest benefactors of this service will likely be small business owners and those partaking in the gig economy," Josephson says. "Essentially, Apple's Pay Later option will best serve those who typically receive their payment for what they offer, well, later. As the saying goes — it takes money to make money."
In general, does it make financial sense to use BNPL programs?
For a small business owner or solopreneur who absolutely knows that they have money coming in and just want to float some payments for six weeks without paying interest, it's a definite "probably." For the rest of us, those who want to buy something we want but maybe we don't need, we'll go with a weaker "maybe."
"They can be a cheaper alternative to using a credit card with a high interest rate," says Kshama Harpankar, who also teaches at Lebanon Valley College and is an associate professor of economics and director of undergraduate programs in business, accounting and economics. But does it really make financial sense to use a BNPL program?
"In theory, yes, but in practice, the using it responsibly part is very difficult," Harpankar says.