GENEVA (AP) — FIFA suspended Spanish soccer federation president Luis Rubiales on Saturday while its disciplinary committee investigates his conduct at the Women's World Cup final, which included kissing player Jenni Hermoso on the lips after Spain's victory.
The provisional suspension comes less than a week after Spain's 1-0 victory over England in Sydney, Australia, and a day after Rubiales refused to resign, despite intense pressure from the Spanish government, women players, soccer clubs and officials. Rubiales' conduct, which also included grabbing his crotch, has overshadowed the enormous accomplishment of Spain's first Women's World Cup title.
Hermoso has said she did not consent to the kiss, and the team's players have said they will not play any more games as long as Rubiales is in charge. It was not immediately clear how FIFA's latest intervention might affect that.
FIFA said it removed Rubiales from soccer duties for 90 days "pending the disciplinary proceedings opened" against him Thursday.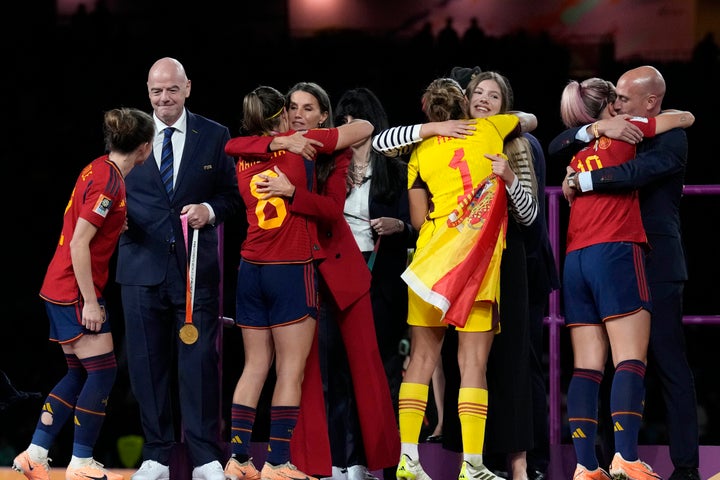 The president of Spain's women's league, Beatriz Álvarez, told The Associated Press that she believed this was the end of Rubiales' soccer career. The league filed one of several official complaints against Rubiales that Spain's government received in the past week.
"Luis Rubiales is finished. He has dug his own grave with his acts and his words," Álvarez said. "Whether it is because of the action of FIFA or the Spanish government, I am sure that Luis Rubiales won't spend another minute as president of the Spanish federation."
The federation appointed vice-president Pedro Rocha as acting president. It added in a statement that Rubiales "has complete trust in the FIFA's procedures and will use this opportunity to start his defense so that the truth is known and he is proven innocent."
The federation has threatened legal action against Hermoso for refusing to accept Rubiales' version of the kiss that happened at the on-field medal and trophy presentation.
FIFA has given no timetable for a ruling. The body's disciplinary judges can impose sanctions on individuals ranging from warnings and fines to suspensions from the sport.
The action taken Saturday should prevent Rubiales, who is also a UEFA vice president, from working in soccer or having contact with other officials.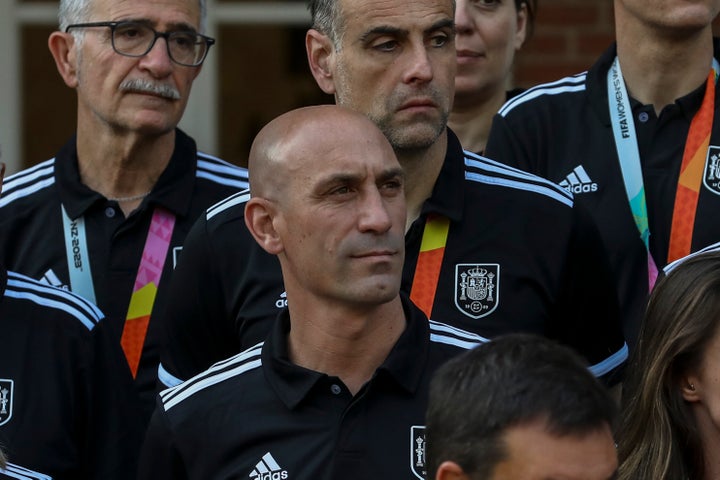 Rubiales has been leading the joint bid by Spain, Portugal, Morocco — and possibly Ukraine — to host the 2030 World Cup. The suspension means he cannot attend UEFA meetings or vote in October to decide the winning bids for the 2028 and 2032 European Championships.
FIFA disciplinary judge Jorge Palacio, a Colombian lawyer and former member of its constitutional court who has worked in women's rights, intervened Saturday and ordered Rubiales and the federation not to contact Hermoso, FIFA said in a statement. Hermoso had said the federation pressured her to publicly back Rubiales.
Spain's government — via its Higher Council for Sports — filed a lawsuit Friday alleging that Rubiales violated the country's sports laws on two counts: for an alleged abuse of power and for allegedly committing acts that tarnished the dignity and decorum of a sporting event. If found guilty, Rubiales could be ruled unfit to hold office.
Spain's Secretary of State for Sports Víctor Francos, who heads the sports council, FIFA's decision "reinforces and reaffirms that the path that the government of Spain announced yesterday was correct."
Local media originally reported that Rubiales would announce his resignation to Friday's general assembly of the federation. Instead, he dug in, painting himself as the victim of a "witch hunt" by "false feminists" and receiving applause from the mostly male crowd.
Hermoso responded that Rubiales was lying about the kiss being consensual and that she had felt intimidated.
The federation backed Rubiales, saying he was telling the truth.
While Rubiales held his ground, federation vice president Rafael del Amo, who had been in charge of women's soccer, resigned. Four assistant coaches for Spain's senior team, plus two coaches of the women's youth teams, and five other staff members for the senior and youth women's teams also resigned on Saturday.
Messages of support for Hermoso poured in from the world of women's soccer, and beyond.
Real Madrid, Barcelona and other clubs issued statements criticizing Rubiales and backing the government's move to oust him. The European players' union backs Hermoso, as does Spain's women's league. Political parties from both the left and right in Spain said Rubiales was unfit to continue in his post. Iberia airlines and other sponsors for the federations said they were with the government as well.
Rubiales mustered some support, at least inside the federation. Among those applauding him at the assembly were Spain's women's coach Jorge Vilda and Spain's men's coach Luis de la Fuente. Former Spain coach Luis Enrique, now at Paris Saint-Germain, lauded his overall management of the federation from France.
On Saturday morning, Spanish sports daily Marca summed up the previous day's events with a front page headline "Global Laughing Stock" over a photo of a smiling Rubiales walking between rows of the general assembly.
The furor over Rubiales comes months after Spanish soccer was rocked by racist insults on Black star Vinicius Junior. Several people were arrested and charged with racist chants against Junior and of hanging an effigy of him.
Rubiales holds the No. 3-ranking elected position in the UEFA, which pays him 250,000 euros ($270,000) annually plus expenses. Rubiales made 339,000 euros ($365,000) in 2021 after taxes, for presiding the Spanish federation with a budget of 382 million euros ($412 million).
He was elected to the executive committee by UEFA member federations in 2019 and was within weeks promoted to the vice presidency by UEFA president Aleksander Čeferin.
Neither UEFA nor Čeferin have commented on the Rubiales scandal.
The 46-year-old Rubiales, whose term runs through next summer, is a former player who led the world players' union's Spanish affiliate for eight years before being elected in 2018 to replace his federation predecessor who ended up behind bars for corruption.
His tenure has been marked by big moves to modernize Spanish soccer as well as scandal. He revamped the Copa del Rey to make it a shorter and more exciting competition. But his overhaul of the Spanish Super Cup, which consisted in taking it to Saudi Arabia for $40 million a year, was criticized by human rights groups and scrutinized by authorities. Last year, Spain's state prosecutors' office announced it was opening a probe into the contracts behind the Spanish Super Cup contracts.
Wilson reported from Barcelona, Spain.