The 96-year-old monarch "died peacefully" at Balmoral in Scotland on Sept. 8, 2022, after an astounding 70-year reign.
"As we mourn a year on, we also celebrate the wonderful times we shared with Her Late Majesty the Queen," Ferguson, also affectionately known as "Fergie," wrote on social media Friday.
"She entrusted me with the care of her corgis Sandy and Muick and I am delighted to say they are thriving," Fergie shared, alongside a photo of herself with the two pups.
The late queen was known for her love of corgis, and owned over 30 dogs during her lifetime.
Though it was reported that the monarch was going to stop breeding corgis toward her last few years ― so she would not leave any of her animals behind after her death ― she was given two puppies by her son, Prince Andrew, during the coronavirus lockdown.
Though one of the dogs passed away shortly after being gifted to the queen, she was given another dog not long thereafter.
After the queen died in September 2022, Sandy and Muick were entrusted to the care of the Duke of York and Fergie.
The dogs memorably made an appearance at the queen's funeral on Sept. 19, where they were shown waiting for their owner's coffin to arrive at Windsor Castle.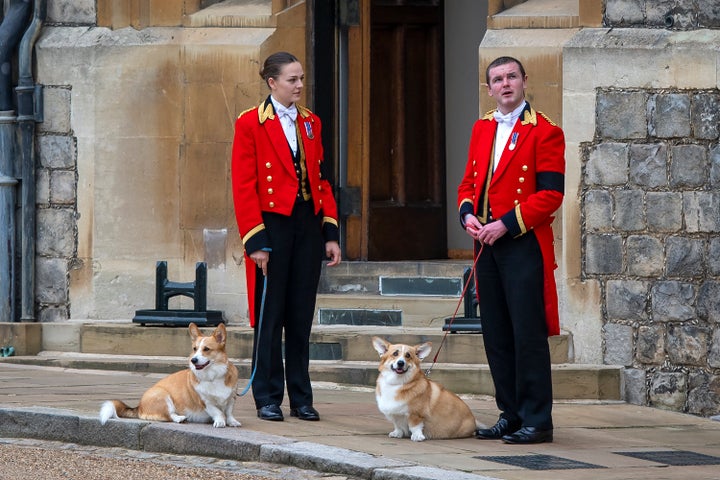 Members of the royal family paid tribute to the late monarch on Friday, each in their own way.
King Charles released a statement and audio recording shared with HuffPost on Thursday, saying that "we recall with great affection her long life, devoted service and all she meant to so many of us."
Prince William and Kate Middleton visited St Davids Cathedral in Wales, where the two honored "Her Late Majesty and all that she did for communities like this around the UK, the Commonwealth and the world."
In a personal message from the couple ― signed W&C ― the two also paid tribute to the queen on their social media accounts, writing "Today we remember the extraordinary life and legacy of Her Late Majesty Queen Elizabeth. We all miss you."
Prince Harry, who was in the U.K. on Sept. 7 for the WellChild Awards, spoke of his grandmother during a speech at the event.
"As you know, I was unable to attend the awards last year, as my grandmother passed away," the Duke of Sussex said. "As you also probably know, she would have been the first person to insist that I still come to be with you all instead of going to her. And that's precisely why I know ― exactly one year on ― she is looking down on all of us tonight, happy we're together continuing to spotlight such an incredible community."
On Friday, the duke visited St George's Chapel in Windsor, where the late queen was laid to rest. She is buried alongside her husband, Prince Philip, as well as her father, mother and sister, Princess Margaret.