UPDATE: The Ocean Explorer was freed from its grounding on Thursday by the Tarajoq vessel, operator Aurora Expeditions said. All passengers on board are safe.
An attempt Wednesday to free a luxury cruise ship that has run aground in Greenland failed, Denmark's Joint Arctic Command said, leaving the 206 aboard stuck in Arctic conditions until at least Friday.
The Ocean Explorer got stuck Monday in the Alpefjord in Northeast Greenland National Park. Its operator, Australia-based Aurora Expeditions, told HuffPost that three passengers have COVID-19 but are in isolation and "doing well."
"All others including the expedition team and crew remain healthy," the company said.
Arctic Command said they are in contact with the ship and have confirmed that all aboard are safe and there is no damage to the environment.
On Wednesday, a Greenland-owned fishing research ship called Tarajoq tried to pull the cruise ship off the ground at high tide but was unsuccessful. This came after a couple of tries by the Ocean Explorer crew to free the ship during high tide.
The next attempt will come when the Danish navy's Knud Rasmussen patrol vessel reaches the site, which is expected to be on Friday afternoon. The ship must travel about 1,400 miles to get there, Arctic Command said.
Aurora Expeditions told HuffPost that it is "actively engaged" in efforts to free the ship and has "secured the support of other vessels in the vicinity should their assistance become necessary."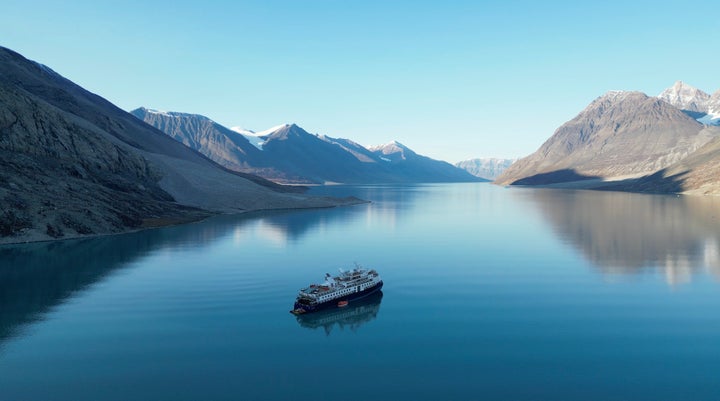 "A cruise ship in trouble in the National Park is of course worrisome. There is a long way for immediate help, our units are far from that and the weather can be very unfavorable. In the specific situation, however, we do not see acute danger to human life or the environment, which is reassuring," Arctic Command's Capt. Brian Jensen said in a statement shared on Facebook.
The Ocean Explorer is stuck in the world's biggest and northernmost national park. Fewer than 40 people live there year-round with about 70 sled dogs and there are no towns, just research or military stations, according to a Greenland tourism website.
Arctic Command's Capt. Flemming Madsen told The Associated Press the passengers on board are "a mix" of tourists from Australia, New Zealand, Britain, the United States and South Korea.
He said they are all doing fine and "all I can say is that they got a lifetime experience."
Passenger Gina Hill told The Guardian that after they found out some people had COVID-19, some chose to wear masks but others did not.
She said everyone aboard was in good spirits.
Greenland is a self-governing, autonomous territory of Denmark. It still relies on Denmark for financial support and defense. But, according to a 2019 poll, more than two-thirds of Greenland's adult population, who are mostly Inuit, support independence.