A museum in Rochester, New York, returned ancestral remains of 19 Native Americans and funerary artifacts to the Oneida Indian Nation on Wednesday, striving for a "small step in the service of justice."
The remains of Oneida ancestors include those of five men, three women and two adolescent girls who lived sometime between 200 to 3,000 years ago. A mix of pottery and other items traditionally buried with the dead were also returned, as required by federal law.
Hillary Olson, the president of the Rochester Museum and Science Center, apologized for the museum's acquisition of the remains.
"We have perpetuated harmful practices including the excavation, collection, study, and display of Native American ancestors and their belongings," she said during a repatriation ceremony in Rochester. "This repatriation does not change the past. But we hope that it is a small step in the service of justice."
ASYLUM SEEKERS SLEEP ON NEW YORK CITY SIDEWALK WITH MANHATTAN'S ROOSEVELT HOTEL AT FULL CAPACITY
In 2000, the museum returned the ancestral remains of 25 Native Americans to the Oneidas.
The remains returned Wednesday were dug up from at least six burial sites throughout the state some time between 1928 and 1979. The remains were acquired during the museum's excavations, or were donated to or purchased by the museum, where they had been housed ever since.
"Events like this allow us to move past these failures with a chance for cultural institutions to take accountability and make amends," Ray Halbritter, who represents the tribe, said at the ceremony. "Repatriation is more than the simple return of remains and cultural artifacts."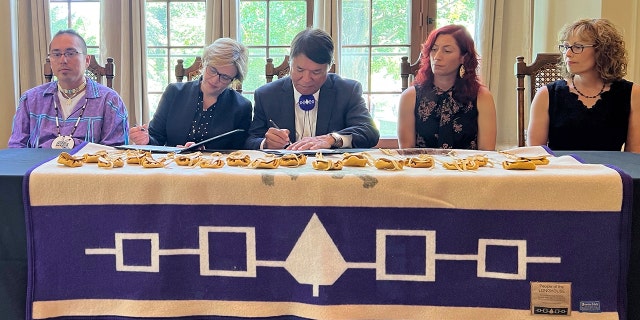 A growing number of museums, universities, and institutions throughout the nation have been grappling with how best to handle Native American remains and artifacts in their collections.
The Native American Graves Protection and Repatriation Act, a federal law passed in 1990, requires museums and universities to disclose to the federal government the Native American items in their possessions, complete item-by-item inventories, and notify or transfer those items to affiliated tribes or descendants.
NEW YORK CITY SPENT $50K TO SEND MIGRANTS TO FLORIDA, TEXAS, CHINA: REPORT
In February, Cornell University returned ancestral remains to the Oneida Indian Nation that were unintentionally dug up in 1964 and stored for decades in a school archive.
The Tennessee Valley Authority said in March that it intended to repatriate the remains of nearly 5,000 Native Americans.
In 2022, Colgate University returned more than 1,500 funerary objects including pendants, pots, and bells to the Oneidas. Those objects, which were buried with ancestral remains, were purchased in 1959 from the family of an amateur archaeologist who collected them from sites in upstate New York.
Despite these repatriations, efforts to return Native American artifacts still lag behind.
In 2022, an estimated 870,000 Native American artifacts, including remains that should be returned to tribes under federal law are still in possession of colleges, museums, and other institutions across the country, according to The Associated Press.
Olson, the president of the Rochester Museum and Science Center, said the museum currently has additional Native American objects in its collections, and that they are actively working to comply with the federal law.