Cleveland Browns legend Joe Thomas will wait just two more days before he gets to see his Pro Football Hall of Fame bust forever enshrined in Canton. Playing his entire career in Cleveland, despite the team's lack of success, was something he cherished throughout his 11 seasons in the league.
But that doesn't mean organizations didn't try their best to pry the six-time All-Pro left tackle from the Browns. Just ask Peyton Manning and the 2015 Denver Broncos. 
Thomas told ESPN's Adam Schefter about a scenario that occurred during that season in which Manning himself reached out to Thomas with an absurd proposal when he realized the Browns just weren't going to budge on trading him.
CLICK HERE FOR MORE SPORTS COVERAGE ON FOXNEWS.COM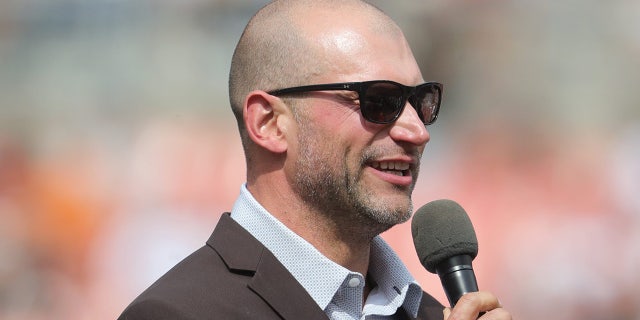 "It was like, 'Hey, Joe, I think you should go up to your GM's office and make a stink. Literally, I want you to go up there, pull your pants down and make a stink on his desk because that's the only way Cleveland is going to trade you,'" Thomas said, laughing.
Thomas provided some context to why the Broncos wanted him so badly.
"It actually happened right before the trade deadline," Thomas reflected about that 2015 season. "So, this would've been October during that season because Ryan Clady was their All-Pro left tackle – he'd been injured. I think he tore his patellar tendon or his Achilles, so they were looking for a replacement because, obviously, they had a roster that went on to win the Super Bowl. But they were like, 'Hey, Peyton, you're not exactly a spring chicken anymore, so we need somebody that's really solid that can block on your blindside.'"
JOE THOMAS ON LOYALTY TO STRUGGLING BROWNS BEFORE HALL OF FAME INDUCTION: 'IT WAS ALWAYS IMPORTANT TO ME'
Thomas said the Broncos and Browns negotiated potential trade packages, and he believed they eventually found common ground.
However, because of Thomas's loyalty to the fans and the Browns all these years, the Cleveland front office was hesitant on letting him go.
"I think there was potentially a lot more downside of trading me since I was the longest-tenured member and had a fair amount of popularity within the Browns fan base," Thomas told Schefter. "Even though I think the draft compensation was fair, there was some trepidation about making that deal and being that one that sent me out of town.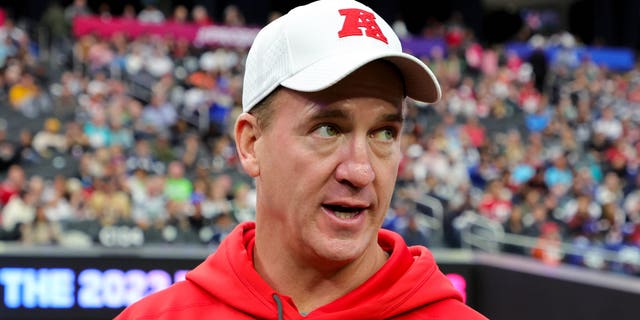 "Peyton realized like, hey, the deal's there. [Then-Broncos executive John] Elway thinks it's fair. Everybody thinks it's fair, but it's not going to happen unless Joe does something very drastic," he said.
"[Manning] ended up winning the Super Bowl that year, so he wasn't wrong about the team that they had. I'm really happy to play my entire career for the Cleveland Browns fans."
DARRELLE REVIS, JOE THOMAS HIGHLIGHT PRO FOOTBALL HALL OF FAME CLASS OF 2023
Thomas added that he and Manning were "drinking partners" at the Pro Bowl, so they already had a connection off the field with one another. Thomas also didn't have a no-trade clause in his contract, so it was truly up to the Browns if they wanted to trade him.
They never pulled the trigger.
Manning and the Broncos went on to defeat the Carolina Panthers to win the Super Bowl that year, while the Browns finished dead last in the AFC North at 3-13 on the year.
Thomas infamously never got to the playoffs despite such a successful career, which is now capped with his Hall of Fame entrance.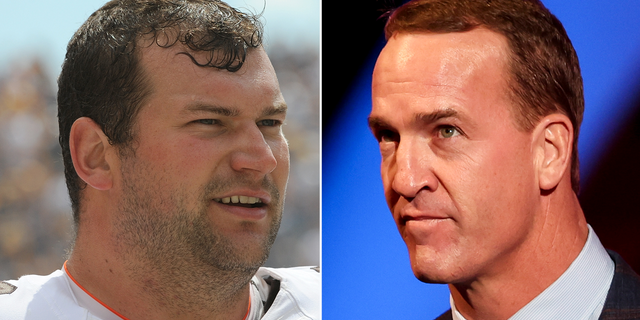 CLICK HERE TO GET THE FOX NEWS APP
As he awaits his moment in Canton, these are the types of stories Thomas can look back at and laugh but also wonder what could've been if the Browns made a different decision in that moment.