Portland's leaders are facing a barrage of criticism after a doctor was brutally attacked by a homeless man while walking home Friday night. "Outnumbered" panelists blamed the city's liberal policies for failing to address crime and homelessness. 
Mary Costantino, a radiologist, was knocked unconscious after a homeless man hurled an aluminum water bottle at her and hit her in the face. She woke up on the ground and immediately dialed 911, believing she was about to die. By the time police arrived 28 minutes later, Costantino had already left to go home. 
"Outnumbered" co-host Emily Compagno noted that Portland police were already on 26 active calls and had 52 calls holding when Costantino was attacked.
OREGON LAWMAKERS 'LOVING HOMELESS TO DEATH' BY THROWING MILLIONS IN FUNDING AT CRISIS, LOCAL OFFICIAL SAYS
"There were zero free officers," Compagno said. "Her situation was horrific, but she wasn't alone in waiting for the police presence."
"It is those policies that the blue city has shoved down the throats of [Portlanders], who are now dying on the streets because of situations like that."
Costantino told Fox News Digital she doesn't blame the police for their delayed response.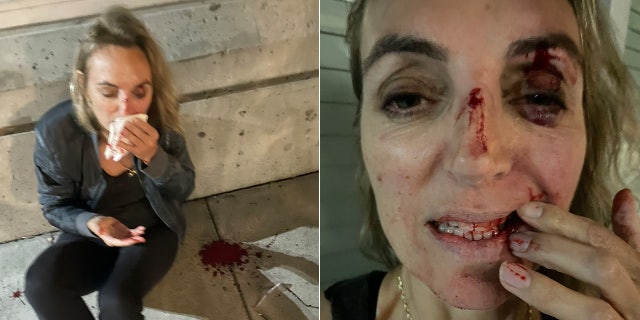 OREGON BILL WOULD PAY HOMELESS PEOPLE $1,000 A MONTH
"I do not hold the police accountable for this at all. I hold our city accountable for defunding the police," she said. "We're in this situation where we don't have enough police force to protect our citizens, and we did this to ourselves."
Dr. Nicole Saphier, a radiologist like Costantino, called the news of the attack "devastating" and said Costantino's decision to walk home rather than wait for police shows how unsafe it is in the city of Portland.
"What are cities like this going to do when the doctors no longer want to live there?" she asked. "They're not going to have doctors. They're not going to have first responders. There's going to be no one to take care of these people. And it will turn into a complete area of chaos and no one to help."
"Outnumbered" co-host Kayleigh McEnany noted Portland police, on average, take nearly 24 minutes to respond to calls, a fact that brought up memories from Trump's 2020 reelection campaign.
"It reminded me of a commercial from the Trump campaign where it was this woman calling, there was an intruder in her house. She called the police. The police didn't answer," McEnany said.
The ad's intent was to show that senior citizens' calls to police may go unanswered under a Biden presidency. At the time, CNN issued a "fact check" and characterized the Trump ad as "dishonest" and "fearmongering."
CRIME TURNED PORTLAND INTO A 'HOLLOWED OUT SHELL.' ITS NEIGHBORS ARE TRYING TO KEEP IT FROM HAPPENING TO THEM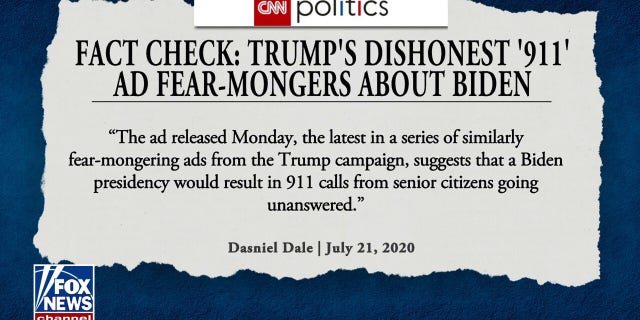 "This woman wasn't a senior citizen," McEnany said. "But she sure was an innocent civilian whose 911 call went unanswered because she left before the police arrived. So fact check: False, CNN."
Compagno then questioned how many of the 52 holding calls to Portland police were, in fact, senior citizens waiting for help.
CLICK HERE TO GET THE FOX NEWS APP
"A 2024 campaign ad should be that [CNN] headline next to a photo of that poor doctor's face because that's Biden's America," Compagno said.
A spokesperson for the Portland Police Bureau confirmed the incident, telling Fox News in an email that TriMet surveillance video "captured what appears to be the unprovoked and brutal attack." Officers were dispatched at 10:55 p.m. — about 20 minutes after Costantino says she was struck — and arrived at the scene eight minutes after that, police said.
For more Culture, Media, Education, Opinion, and channel coverage, visit foxnews.com/media. 
Fox News' Hannah Lambert contributed to this report.