Imprisoned Russian opposition leader Alexei Navalny is preparing to hear the verdict Friday in his latest trial on extremism charges.
The prosecution has demanded a 20-year prison sentence, and the politician himself said he expects to receive a lengthy term. If the court finds Navalny guilty, it would be his fifth criminal conviction, all of which his supporters see as a deliberate Kremlin strategy to silence its most ardent opponent.
Navalny is already serving a nine-year sentence for fraud and contempt of court. He also was sentenced in 2021 to 2½ years in prison for a parole violation. The extremism trial has taken place behind closed doors in the penal colony east of Moscow where he is imprisoned.
The 47-year-old Navalny is President Vladimir Putin's fiercest foe and has exposed official corruption and organized major anti-Kremlin protests. He was arrested in January 2021 upon returning to Moscow after recuperating in Germany from nerve agent poisoning that he blamed on the Kremlin.
The new charges relate to the activities of Navalny's anti-corruption foundation and statements by his top associates. His allies said the charges retroactively criminalize all of the foundation's activities since its creation in 2011.
US TROOPS IN UKRAINE ELIGIBLE TO RECEIVE HAZARD PAY IN MOVE THAT MAY RILE PUTIN: EXPERT
One of Navalny's associates, Daniel Kholodny, is standing trial alongside him after being relocated from a different prison. The prosecution has asked to sentence Kholodny to 10 years in prison.
Navalny has rejected all the charges against him as politically motivated and accused the Kremlin of seeking to keep him behind bars for life.
On the eve of the verdict hearing, Navalny released a statement on social media, presumably through his team, in which he said he expected his latest sentence to be "huge… a Stalinist term," referring to the Soviet dictator Joseph Stalin.
In the statement, Navalny called on Russians to "personally" resist and encouraged them to support political prisoners, distribute flyers or go to a rally. He told Russians that they could choose a safe way to resist, but he added that "there is shame in doing nothing. It's shameful to let yourself be intimidated."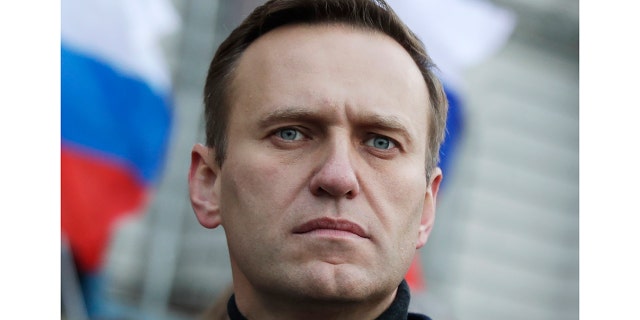 The politician is currently serving his sentence in a maximum-security prison — Penal Colony No. 6 in the town of Melekhovo more than 140 miles east of Moscow.
RUSSIAN PROSECUTORS PUSH FOR 20 YEAR SENTENCE FOR IMPRISONED OPPOSITION LEADER ALEXEI NAVALNY
He has spent months in a tiny one-person cell, also called a "punishment cell," for purported disciplinary violations, such as an alleged failure to properly button his prison clothes, appropriately introduce himself to a guard or to wash his face at a specified time.
On social media, Navalny's associates have urged supporters to come to Melekhovo on Friday to express solidarity with the politician.
The prosecution has asked the court, if it convicts Navalny, to order the politician to serve any new prison term in a "special regime" penal colony, a term that refers to the Russian prisons with the highest level of security and the harshest inmate restrictions.
Russian law stipulates that only men given life sentences or "especially dangerous recidivists" are sent to those types of prisons.
The country has many fewer "special regime" colonies compared to other types of adult prisons, according to state penitentiary service data: 35 colonies for "dangerous recidivists" and six for men imprisoned for life. Maximum-security colonies are the most widespread type, with 251 currently in operation.