The former president of one of the nation's largest police unions was sentenced to two years in prison Thursday for stealing $600,000 from a fund made up of contributions from members of the Sergeants Benevolent Association.
Ed Mullins was sentenced in Manhattan federal court by Judge John G. Koeltl, who said he was balancing the four decades of police work and numerous charitable deeds Mullins had carried out against the crime he engaged in from 2017 through 2021. Mullins was also ordered to forfeit $600,000 and pay the same amount in restitution.
Mullins, 61, of Port Washington, admitted the theft in January when he pleaded guilty to a wire fraud charge.
POLICE UNION MANAGER IN CALIFORNIA ALLEGEDLY IMPORTED ILLEGAL OPIOIDS FROM INDIA, HONG KONG, SINGAPORE
He said Thursday that he had "lost" himself in carrying out the crime.
"My regret cannot be put into words," Mullins said. "I make no excuses. I made an incredibly bad decision."
His deal with prosecutors called for a sentence of up to 3 1/2 years in prison, which is what prosecutors requested.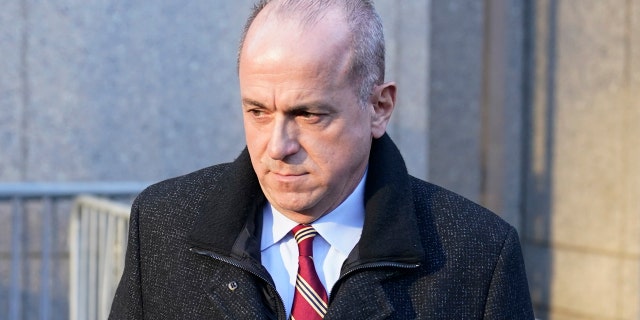 The SBA, which represents about 13,000 active and retired sergeants, is the nation's fifth-largest police union.
Assistant U.S. Attorney Alexandra Rothman said Mullins had an outward persona of being the union's fearless leader.
But, she said, "Behind closed doors, he was a thief, a liar."
In October 2021, Mullins resigned as head of the SBA after the FBI searched the union's Manhattan office and his Long Island home. Weeks later, he retired from the New York Police Department.
FEDERAL COURT HANDS DOWN A MAJOR CONVICTION OF CORRUPT UNION BOSSES
Prosecutors said Mullins stole money in part to pay for meals at high-end restaurants and to buy luxury personal items, including jewelry. Sometimes, they said, he charged personal supermarket bills to the union and counted costly meals with friends as business expenses.
His lawyer, Thomas Kenniff, told the judge that his client did not live lavishly on his roughly $250,000 salary.
"This once mighty figure sits humble before this court," he said, noting the shame Mullins must now endure.
CLICK HERE TO GET THE FOX NEWS APP
Mullins declined comment as he left the courthouse.
In a release, U.S. Attorney Damian Williams said the sentence shows that "no one — not even high-ranking union bosses — is above the law."