A woman swimming off Florida's Gulf Coast near St. Petersburg received 14 stitches after she was bitten by a shark last weekend. 
"We were jumping off the boat, swimming around, floating for a few hours. Just having a fun day," Natalie Branda, 26, told FOX 13 Tampa Bay this week.  
Branda, who was celebrating her friend's birthday last Saturday, said she suddenly realized she'd been bitten after she splashed the water then felt pressure on her upper thigh. 
"I just felt pressure, and it released, and I was like 'I got bit.' I swam the fastest I ever swam to the boat," she told the news station.
SHARK TAKES BITE OUT OF BEACHGOER IN LATEST ATTACK AT TOURIST HOT SPOTS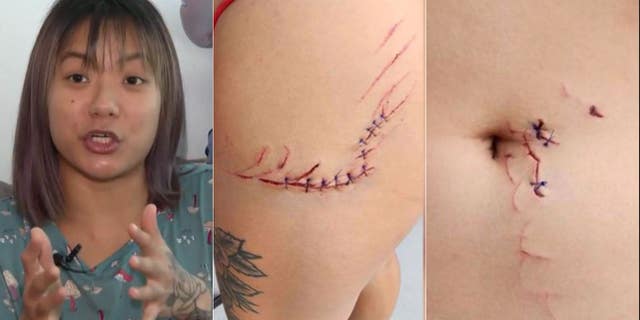 Photos of the bite showed it went from her bottom all the way to her belly button. 
Her friend, Allie Mucks, said they applied pressure on her wound and rushed back to the dock, calling 911. 
"I could only see my stomach at the time and everyone on the boat was 'Oh my God, it's not that bad,' and then I turned around and everyone was like, 'Oh, my God,'" Branda said. 
She added, "We are invading their home. It sucks that this happened, but when you're entering and being with large creatures in their home, you have to respect them." 
Mucks added, "It's not very common that people experience that and walk away with just some stitches." 
BULL SHARK REPEATEDLY AND VIOLENTLY ATTACKS FLORIDA FISHERMAN'S BOAT
Branda said she plans to get back into the water eventually, but not under the same circumstances. 
"I don't know if I'll do what we did last time," she told FOX 13. "The water was kind of murky. It was the perfect cocktail for the perfect storm. I'll probably get back in the water, but I need to recover first." 
Experts recommend avoiding open water at dawn and dusk, when sharks are most likely to attack, according to FOX 13. 
A man was also bitten on the lower leg on Sunday in Florida's Manatee County. He was hospitalized in unknown condition, authorities said. 
Florida leads the country in shark bites, although attacks are still "extremely unlikely," the Florida Fish and Wildlife Conservation Commission says. 
At least two other shark attacks have occurred in Florida since last month. On July 17, a 48-year-old Lake Worth man was bitten by a shark, causing minor injuries to his back. The man, however, refused to go to the hospital, according to Fox 35. 
CLICK HERE TO GET THE FOX NEWS APP
On the day prior, officials said a 21-year-old DeLand man was surfing a little after 3 p.m. when he was attacked by a shark. 
Fox News' Brianna Herlihy contributed to this report.