Aug. 8 marks "Top 8 Challenge Day."
The date exists to help raise awareness of the "Top 8" allergens related to eosinophilic gastrointestinal disorders (EGIDs), National Today, a national day calendar, reported.
EGIDs refer to accumulation of eosinophils within the gastrointestinal tract, according to the National Library of Medicine.
SESAME ALLERGY MOMS SOUND OFF ABOUT SHORTCUTS ON FDA GUIDELINES: 'THREATENING THE LIVES OF OUR KIDS'
The "Top 8" campaign, National Today wrote, educates and raises funds for medical research on EGID and was originally started by ausEE Inc., an Australia-based organization representing people living with an eosinophilic disease.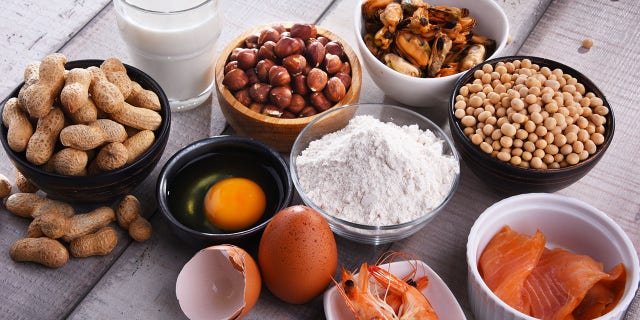 To participate in a "Top 8 Challenge," individuals can eliminate one or more of the major eight food allergens from their diet for one day, Wan Na Chun, a registered dietitian with OnePotWellness.com in Indianapolis, Indiana, told Fox News Digital.
So what exactly are the "top 8"?
"The top 8 food allergens are milk, eggs, fish, crustacean shellfish, wheat, soy, peanuts and tree nuts," said Na Chun.
"People [with allergies] should keep in mind that consuming these allergens can cause an immune response that can range from mild to severe, including anaphylaxis, which is a life-threatening reaction," she added. "It is important to read food labels carefully and avoid cross-contamination when preparing foods."
Vandana Sheth, a Rancho Palos Verdes, California-based registered dietitian nutritionist (VandanaSheth.com), said that if you call it the "top 9," it includes sesame.
FOR PEANUT ALLERGY PREVENTION, STUDY SUGGESTS BABIES CAN BE FED DILUTED PEANUT BUTTER AT EARLY AGE
As Na Chun also noted, people with food allergies should work with a doctor and or registered dietitian to develop an appropriate diet plan that meets their nutritional needs.
"This can help them identify which foods may be causing allergic reactions and gain insights into their health," Na Chun continued, noting that according to the Centers for Disease Control and Prevention (CDC), food allergies affect an estimated 8% of children in the United States, which is about two students per classroom. 
Food allergies affect an estimated 6.2% adults, according to a National Health Interview Survey conducted by the CDC in 2021.
CHATGPT, MEAL PLANNING AND FOOD ALLERGIES: STUDY MEASURED 'ROBO DIET' SAFETY AS EXPERTS SOUND WARNINGS
"Every three minutes a food allergy reaction sends someone to the emergency room," Sheth said.
Roughly 33.8 million Americans of all ages lived with at least one allergy to a "top 8" food, according to the Food Allergy Research and Education (FARE) and studies published in 2018 and 2019.
"While trying to understand and manage your food allergies may be confusing and stressful, it doesn't have to be," said Catherine Karnatz, a self-proclaimed anti-diet culture registered dietitian based in West Warwick, Rhode Island.
Experts say meeting with a medical professional will reveal more about how an allergen affects your health.
Karnatz explained that when someone has a food allergy, exposure to certain proteins may trigger "an immune response." 
She added that the body mistakes the proteins as an invasive threat to the immune system.
"As a result, an allergic reaction occurs and can present with symptoms like vomiting, diarrhea, swelling, itching and anaphylaxis," Karnatz continued.
MAJOR FOOD BRANDS ARE ADDING SESAME TO ITEMS IN 'SHORTCUT' AFTER FDA DECLARES THE SEED A 'MAJOR ALLERGEN'
"Identifying food allergies is an art and science," she added.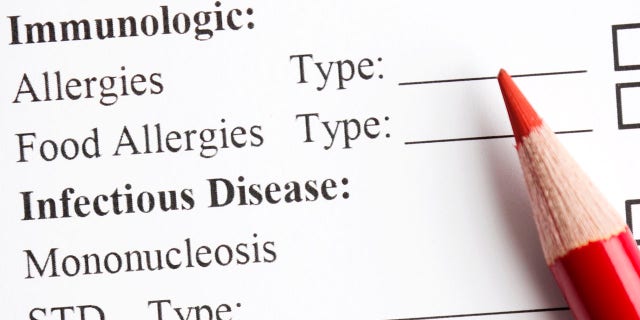 Sheth explained that if you're looking for concrete data on your trigger foods, removing an allergen from your diet for one day won't do the trick.
"To get a more accurate picture of symptoms and reactions it is best to work with a dietitian specializing in food allergies and do any type of elimination or challenge systematically and over a longer period of time," Sheth added.
Karnatz noted that it's important to meet with an allergist if you suspect a potential food allergy concern. 
WHAT TO DO IF YOU GET AN ALLERGIC REACTION: SYMPTOMS, CAUSES, AND PREVENTION
"An allergist can perform specific food allergy and sensitivity testing and provide you with in-depth food allergy education that's personalized to your health needs," she explained.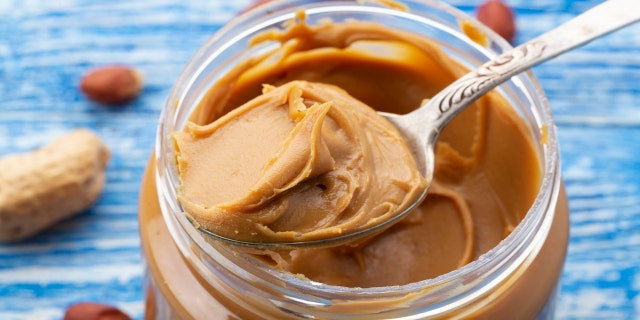 Sheth said that "food allergies can be life-threatening and must be taken seriously." 
"It's best to work with a dietitian who specializes in food allergies and a physician to understand and manage life with food allergies without compromising your health and wellbeing," she added.
CLICK HERE TO SIGN UP FOR OUR LIFESTYLE NEWSLETTER
Another tip is for those with food allergies "to be prepared for food allergy emergencies and educate others about their condition," Sheth said.
"Food allergen exposure can cause an allergic reaction even if a food allergen isn't eaten or touched," stated Karnatz, who shared that people with a severe peanut allergy may experience an allergic reaction from airborne peanut protein particles circulating nearby.
"Food allergies should always be taken seriously because in the worst cases, exposure can be deadly," Karnatz said.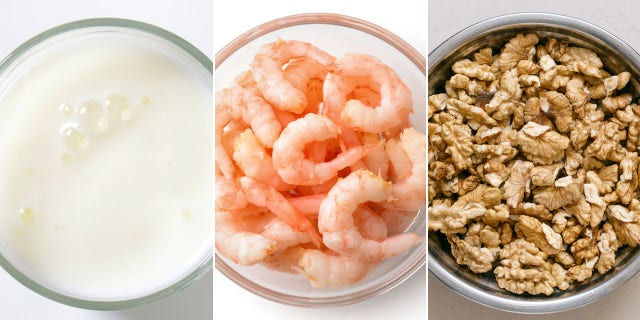 Fox News Digital reached out to ausEE Inc. for comment about its initiative.
On its website, the organization states that "people living with EGIDs like eosinophilic oesophagitis (EoE) often have to live with food restrictions which make it additionally hard on physical, emotional and social levels."
"There is no cure for EoE and one of the common treatment options is an elimination diet which is tailored to the individual," ausEE Inc.'s site continues. "Some people may be able to identify specific food(s) that trigger symptoms, but most cannot."
It adds, "Some doctors suggest removal of up to 8 common foods allergens (milk, wheat, egg, soy, peanuts, tree nuts, fish and shellfish), which is the idea behind our Top 8 Challenge."
CLICK HERE TO GET THE FOX NEWS APP
The organization notes that the challenge raises awareness for what it can be like for a person who lives with an EGID, while raising money for medical research.
"ausEE Inc. does not suggest taking the Top 8 Challenge for more than one day without dietary advice. If you have any health conditions that may be affected by diet changes, please check with your doctor before taking the challenge," the site noted.