White House press secretary Karine Jean-Pierre on Wednesday deflected questions on President Biden's flagrant violation of COVID-19 protocols at a Medal of Honor ceremony.
The CDC guidelines that the White House said Biden would observe after first lady Jill Biden tested positive for the coronavirus state that those exposed to COVID-19 must wear a mask when indoors and around other people. But Biden removed his mask to deliver remarks at the ceremony for retired Army Capt. Larry Taylor in the White House East Room on Tuesday — and he never put it back on.
Pressed by reporters, Jean-Pierre acknowledged Biden did not have his mask on and explained he left the ceremony early to limit his contact with those in attendance.
BIDEN RIPPED FOR LEAVING MEDAL OF HONOR CEREMONY EARLY: 'ABHORRENT'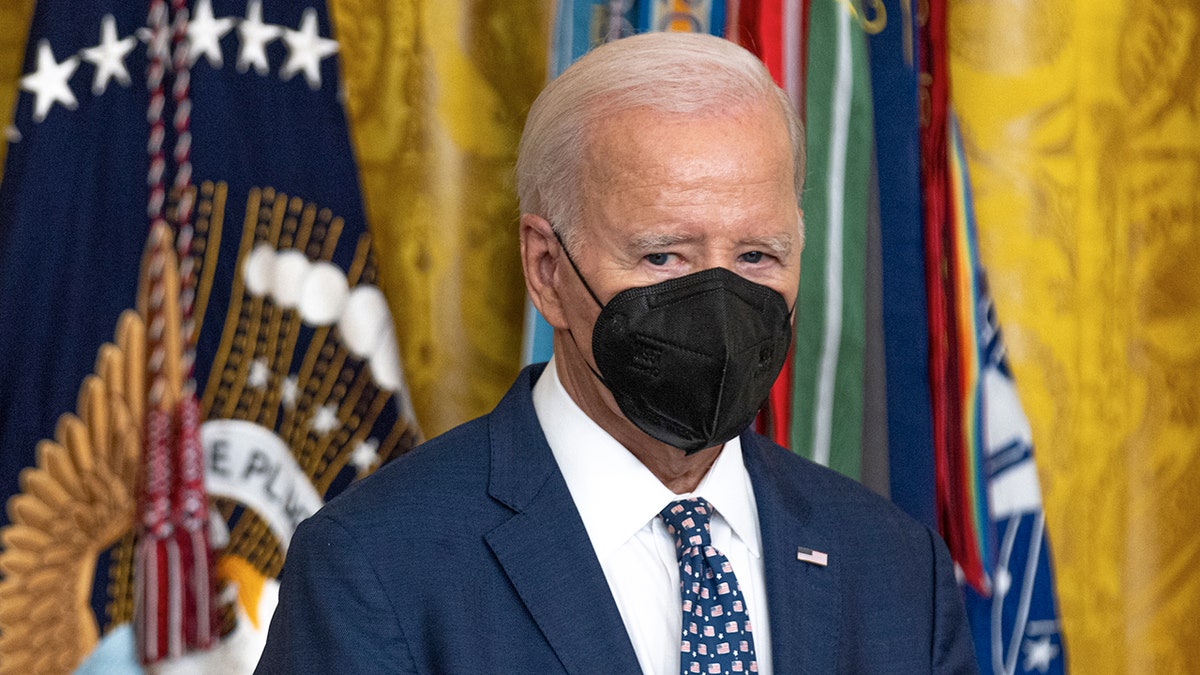 "The president took off his mask, as I said he would, to deliver incredibly powerful remarks about this captain, Capt. Taylor, and what he did in service to our nation," Jean-Pierre said Wednesday. "And for a brief time afterwards, he also didn't have his mask on."
Social media users slammed Biden after it appeared he "bolted out of the room" and disrespected Taylor, who had just received the nation's highest military honor. But the White House said Biden's rapid exit was planned.
BIDEN'S RETURN TO INDOOR MASKING DRAWS SCORN ONLINE: 'SUCH NONSENSE FEARMONGERING'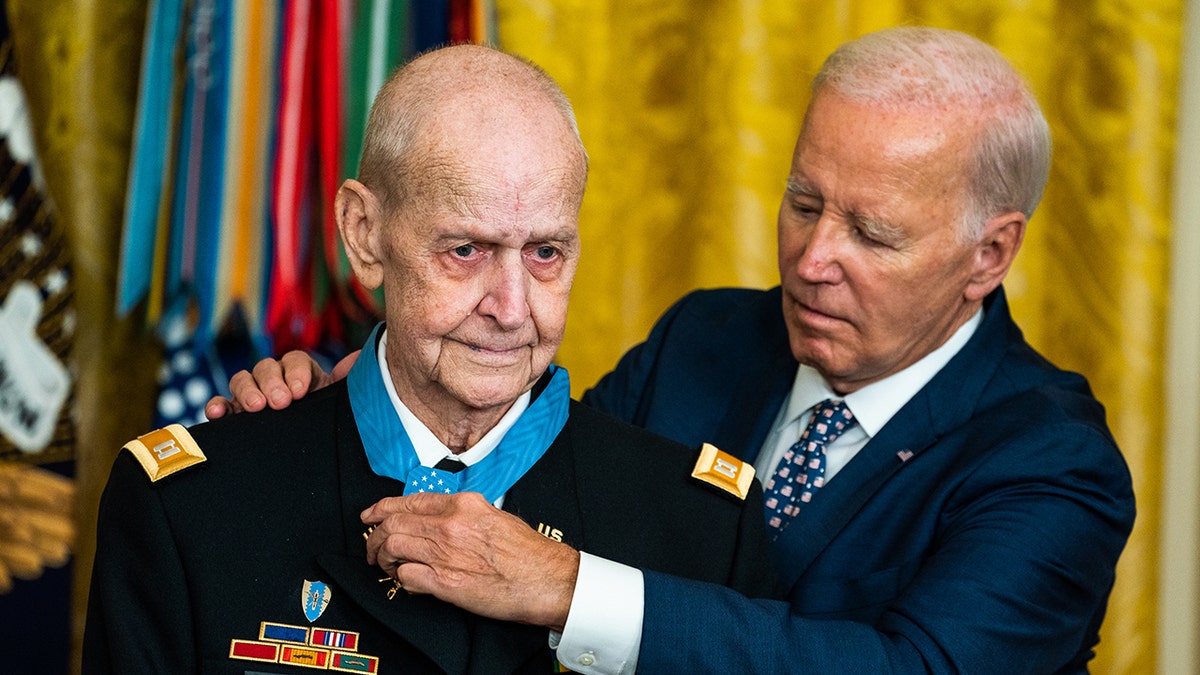 "He left as planned, as it was planned," Jean-Pierre told reporters. "He left when there was a pause in the program in order to minimize his close contact with attendees who are about to participate in a reception."
Jean-Pierre emphasized that Biden's mask mishap and departure from the ceremony needed to be placed into "context." She pointed to Biden's negative COVID tests this week and said "we are in a different phase" of COVID now that the pandemic is officially over.
BIDEN TO MASK UP INDOORS AGAIN AFTER NEGATIVE COVID TEST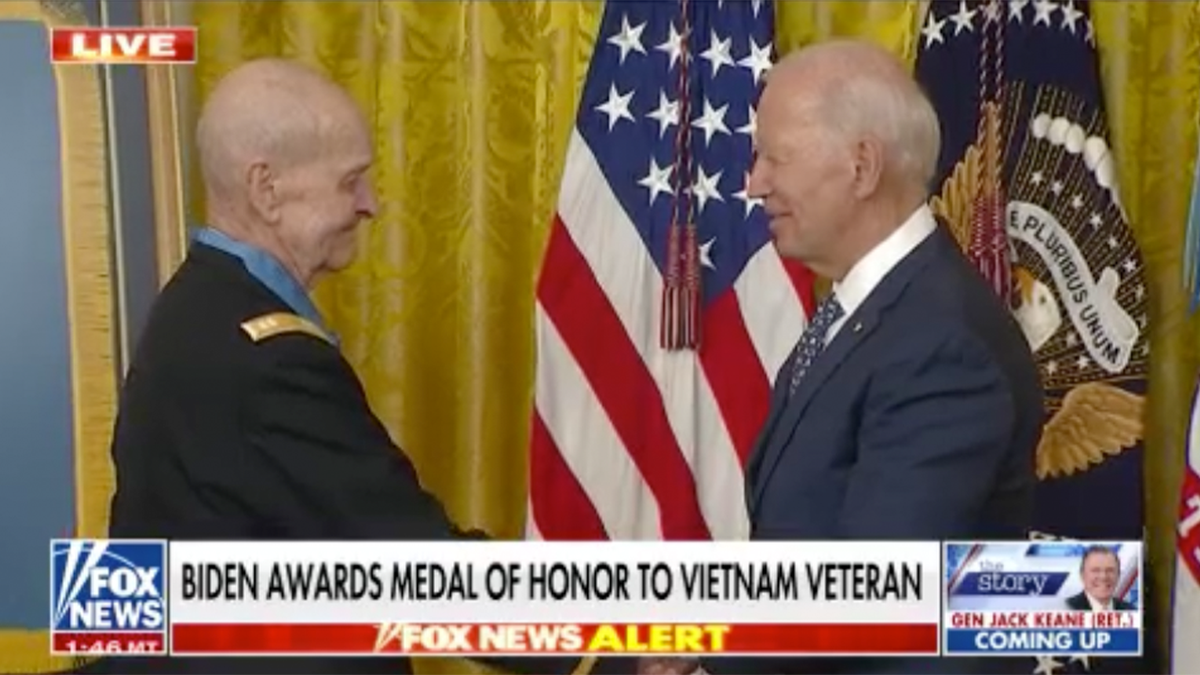 "We've got to put this all in context," she said. "We planned for the president to leave when there was a pause in the program so that it would minimize him being in the room. He did just that. And I also would want to add that before the event started, the president spent a good amount of time with the captain, Capt. Taylor and his family. And everybody was masked because he wanted to spend that quality, important time."
CLICK HERE TO GET THE FOX NEWS APP
Asked if the Centers for Disease Control and Prevention should update its year-old guidance on COVID-19 protocols, Jean-Pierre punted the question to the CDC.
"That is not for me to speak to, it truly isn't," she said. "That is something the CDC decides on. They are the experts."