The Kansas City Chiefs fended off a furious Miami Dolphins comeback attempt to win 21-14 in Germany.
The Dolphins scored two touchdowns in the second half and had the ball with under 2 minutes to play in the game. Miami faced a 4th-and-10 with 1:03 left in the fourth quarter. But Tua Tagovailoa fumbled the snap and was unable to pick it up clean in the face of the Chiefs' rush. The game ended like that.
Kansas City improved to 7-2 and Miami fell to 6-3 as both teams moved into their bye weeks.
CLICK HERE FOR MORE SPORTS COVERAGE ON FOXNEWS.COM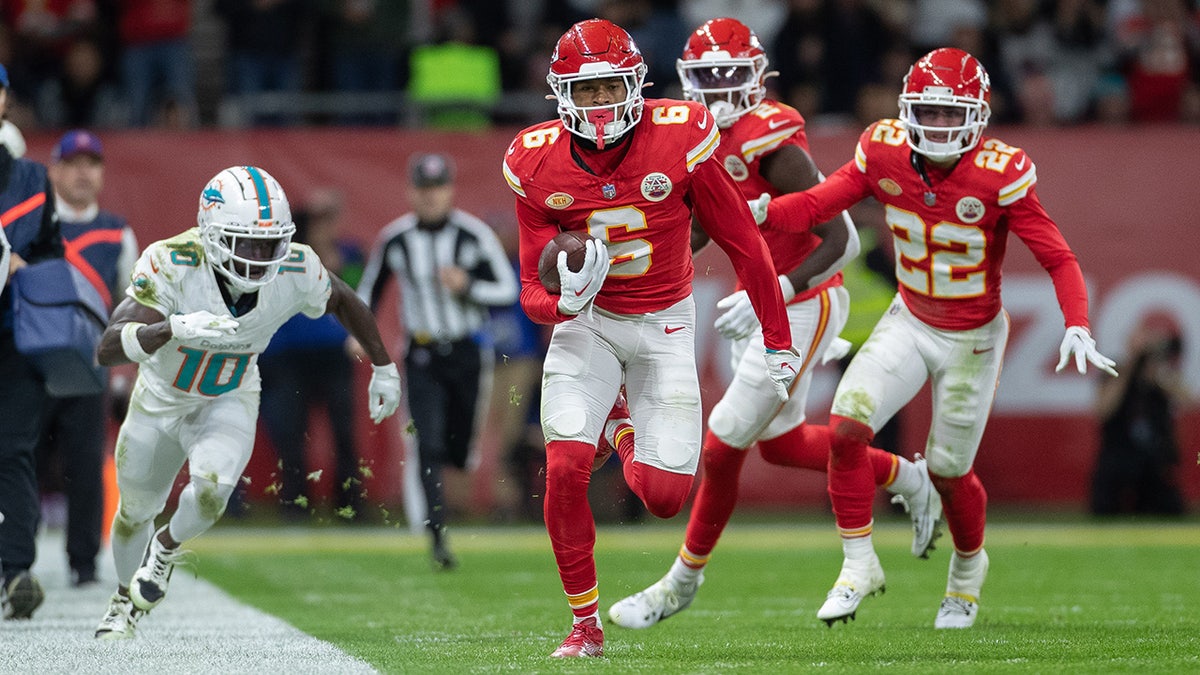 Patrick Mahomes got the scoring started earlier for Kansas City. He found Rashee Rice for an 11-yard touchdown pass on their first drive of the game. Before the half, the Chiefs struck again quickly.
Mahomes found Jerick McKinnon for a 17-yard score with 2:31 left. Miami was looking for a quick score on the next possession but a Tyreek Hill fumble stunted the team. Hill fumbled and it was picked up by Mike Edwards. The defensive back then lateralled the ball to Bryan Cook, who scored a touchdown.
Kansas City led 21-0 at halftime.
The Dolphins didn't get on the board until 4:47 left in the third quarter. Tagovailoa found Cedrick Wilson Jr. for a 31-yard touchdown. Then, with 22 seconds left in the third, Raheem Mostert scored on a 13-yard rush. The Dolphins were only down seven points.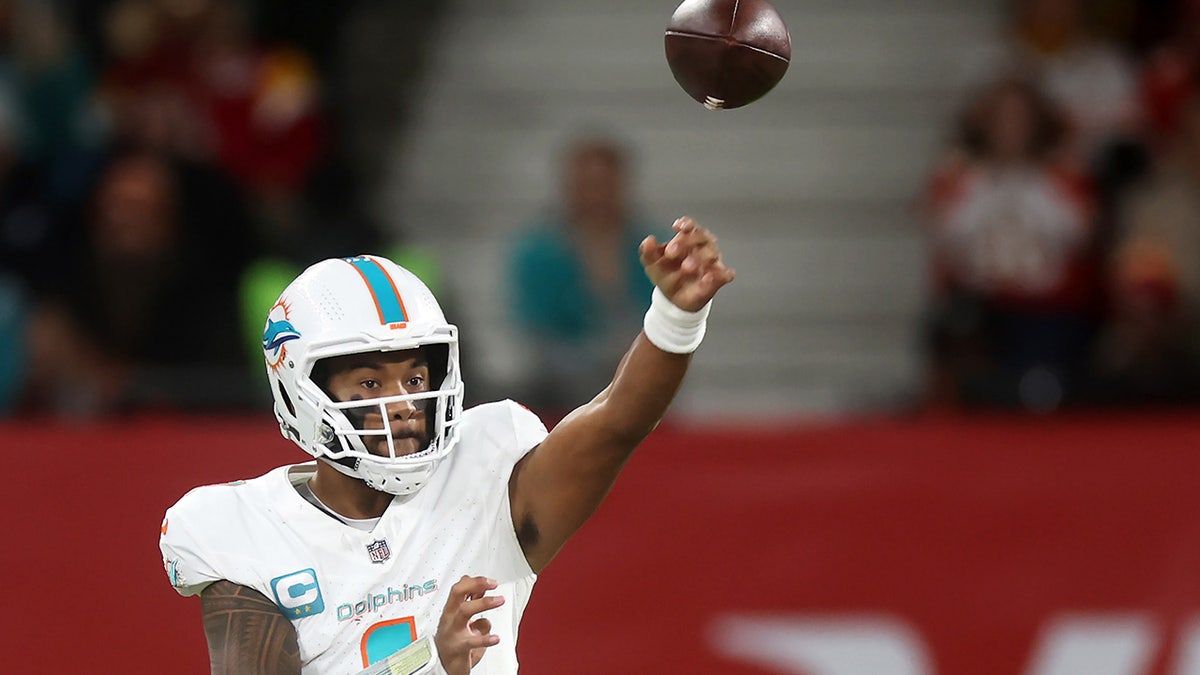 CHIEFS' WILD FUMBLE-RETURN SEQUENCE LEADS TO IMPROBABLE TOUCHDOWN VS DOLPHINS
Miami had two possessions in the fourth quarter. The team punted after a 12-play, 34-yard drive and then Tagovailoa fumbled the snap to end the game.
The Dolphins, after only having 110 yards of offense in the first half, finished with 292 total yards versus the Chiefs' 267. The team eventually converted on third down three times after failing to convert in the first half.
Mahomes finished 20-for-30 with 185 passing yards and two touchdown passes. Isiah Pacheo had 60 rushing yards. Noah Gray led the team in receiving with three catches for 34 yards. Nine Chiefs players had receptions.
Tagovailoa was 21-for-34 with 193 passing yards. Mostert ran for 85 yards and a touchdown. Hill had a team-high eight catches for 62 yards.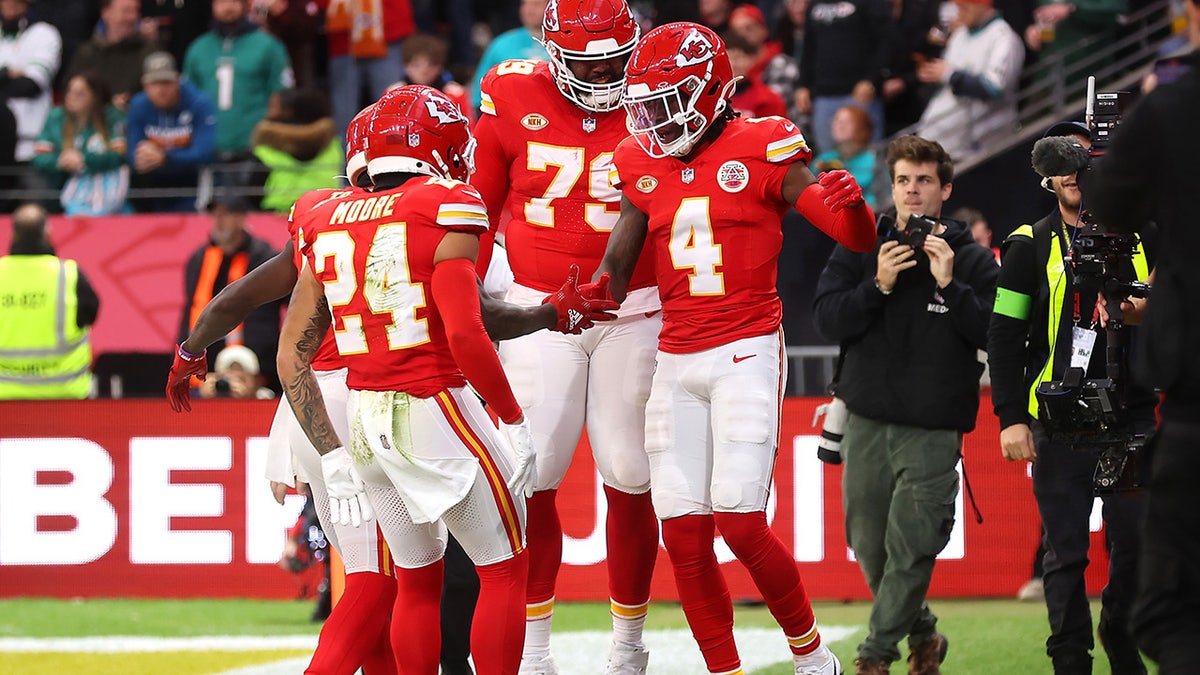 CLICK HERE TO GET THE FOX NEWS APP
Kansas City has a week off but will return Nov. 20 to host the Philadelphia Eagles. Miami will host the Las Vegas Raiders on Nov. 19.