DEIR AL-BALAH, Gaza Strip (AP) — Israel's defense minister said Friday that it expects to launch a ground offensive into Gaza soon that will be long and difficult, and aim to destroy a vast network of tunnels used by the territory's militant Hamas rulers.
Yoav Gallant spoke to a small group of foreign reporters after Israeli forces backed by fighter jets and drones carried out a second ground raid into Gaza in as many days, striking the outskirts of Gaza City.
He said the ground invasion would include large forces, backed by airstrikes, and "will take a long time," without elaborating. He said it would be followed by a third phase of lower-intensity fighting, as Israel destroys "pockets of resistance."
The Palestinian death toll has already soared past 7,300 as Israel has carried out waves of devastating airstrikes in response to a bloody Hamas incursion into southern Israel on Oct. 7. The Health Ministry in Gaza, which tracks the toll, released a detailed list of names and identification numbers on Thursday. The toll includes more than 3,000 minors and more than 1,500 women.
The overall number of deaths far exceeds the combined toll of all four previous wars between Israel and Hamas, estimated at around 4,000. A ground invasion is expected to cause even higher casualties on both sides as Israeli forces and Hamas battle each other in dense residential areas.
More than 1,400 people in Israel, mostly civilians, were slain during the initial Hamas attack, according to the Israeli government. Hamas is holding at least 229 captives inside Gaza, including men, women, children and older adults.
Hospitals have been scrounging for fuel to run emergency generators that power incubators and other life-saving equipment after Israel cut off all fuel deliveries to Gaza at the start of the war, forcing its only power plant to shut down. Only a trickle of food and medicine have been allowed in since the war began.
Gallant said Israel believes that Hamas would confiscate any fuel that enters. He said Hamas uses generators to pump air into its hundreds of kilometers (miles) of tunnels, which originate in civilian areas. He showed reporters aerial footage of what he said was a tunnel shaft built right next to a hospital.
"For air, they need oil. For oil, they need us," he said.
Little is known about Hamas' secretive tunnels and other infrastructure, and it wasn't possible to independently confirm Gallant's claims.
Lynne Hastings, the U.N. aid coordinator for the Palestinian territories, declined to comment on Gallant's remarks, saying "we don't know what Hamas has or doesn't have."
"We have been bringing fuel into Gaza in coordination with the government of Israel for decades. We know fuel is a high-risk item and are working with the Israelis to make sure what we will be using for our operations is done securely," she said.
The U.N. agency for Palestinian refugees, which provides basic services to hundreds of thousands of people in Gaza, said it has been forced to ration fuel among lifesaving machines in hospitals, bakeries, and desalinisation plants, and only has enough for a few more days.
"The siege means that food, water and fuel – basic commodities — are being used to collectively punish more than 2 million people, among them, a majority of children and women," Philippe Lazzarini, the head of UNRWA, told reporters.
Earlier on Friday, the military said ground forces raided inside Gaza, striking dozens of militant targets over the past 24 hours. It said aircraft and artillery bombed targets in Shijaiyah, a neighborhood on Gaza City's outskirts that was the scene of an urban battle in the 2014 Gaza war.
The military said the soldiers exited the territory without suffering any casualties. It reported an earlier, hourslong raid into northern Gaza on Thursday.
The damage to Gaza from nearly three weeks of bombardment showed in satellite photos of several locations taken before the war and again in recent days.
Entire rows of residential buildings simply disappear in the photos, reduced to smears of dust and rubble. A complex of 13 high-rises by the sea was pounded to dust near Gaza City's al-Shati refugee camp, leaving only a few tottering bits of facade, according to the photos by Maxar Technologies.
The military says it only strikes militant targets and accuses Hamas of operating among civilians in an attempt to protect its fighters. Palestinian militants have fired thousands of rockets into Israel, including one that hit a residential building in Tel Aviv on Friday, wounding three people.
The conflict has threatened to ignite a wider war across the region.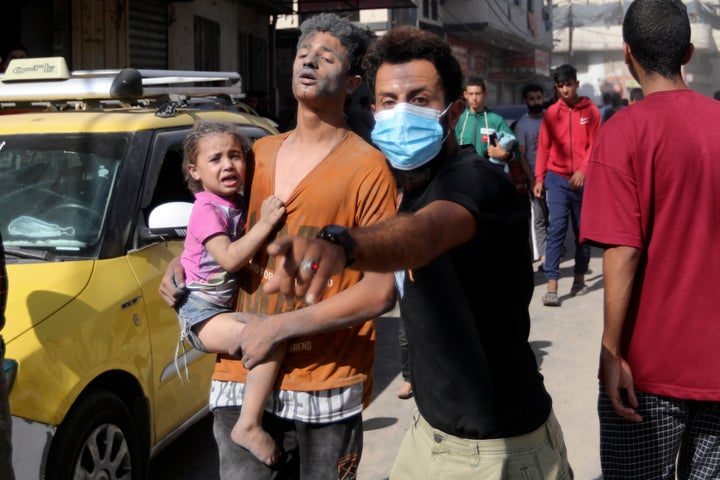 U.S. warplanes struck targets in eastern Syria that the Pentagon said were linked to Iran's Revolutionary Guard after a string of attacks on American forces, and two mysterious objects hit towns in Egypt's Sinai Peninsula.
U.S. Defense Secretary Lloyd Austin said that the strikes were a response to "ongoing and mostly unsuccessful attacks" against U.S. personnel in Iraq and Syria over the past 10 days. He said the operation was separate from the Israel-Hamas war.
Iran-backed fighters later fired rockets at an oil facility housing U.S. troops in eastern Syria, according to Syrian opposition activists. The Britain-based Syrian Observatory for Human Rights said the U.S. strikes had wounded seven Iran-backed Iraqi fighters.
Hezbollah, an Iranian-backed ally of Hamas in Lebanon, has repeatedly traded fire with Israel along the border, and Israel has carried out airstrikes targeting Iran-linked groups in Syria. The United States has sent two aircraft carrier strike groups to the region, along with additional fighter jets and other weaponry and personnel, in part to deter Iran and its allies from entering the war on the side of Hamas.
Egypt's military meanwhile said a drone crashed into a building in the Red Sea town of Taba, on the border with Israel, slightly wounding six people. In a separate incident, the state-run Al-Qahera news said a "strange object" landed near a power station in the Red Sea town of Nuweiba, further south. Footage showed debris and smoke rising from the side of a nearby mountain.
Rear Adm. Daniel Hagari, an Israeli military spokesperson, said "an aerial threat was identified in the area of the Red Sea," which appeared to be the source of the Taba incident. He said fighter jets were dispatched to the area and that Israel, Egypt and the U.S. were tightening their defenses in the region.
About 1.4 million of Gaza's 2.3 million residents have fled their homes, with nearly half of them crowding into U.N. shelters. Hundreds of thousands remain in northern Gaza, despite Israel ordering them to evacuate to the south and saying that those who remain might be considered "accomplices" of Hamas.
Over the past week, Israel has allowed more than 80 trucks with aid enter from Egypt through the Rafah crossing, the only entry point into Gaza not controlled by Israel. But aid workers say the convoys meet only a tiny fraction of the territory's mounting humanitarian needs. Before the war, an average of 500 trucks entered Gaza each day, according to the United Nations.
The U.S. has been working with other mediators to send in more humanitarian aid, but Israel is insisting on strict screening procedures for all trucks that enter. Washington says Hamas has refused to open the Gaza side of the Rafah crossing to let hundreds of foreign passport holders leave.
Federman reported from Jerusalem and Mroue from Beirut. Najib Jobain in Rafah, Gaza Strip, Jack Jeffery in Cairo, Isabel DeBre in Jerusalem, and Brian Melley in London, contributed to this report.